Reviewing implementation of the EU Water Framework Directive
The aim of this eConference is to gather constructive and practical suggestions from the scientific community for the improved monitoring and management of waters across Europe and ideas for more effective implementation of the Water Framework Directive (WFD), scheduled for review in 2019-20.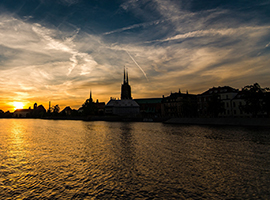 It is more than 15 years since the European Union (EU) Water Framework Directive (WFD) was formally adopted. Since then, Europe has changed. New pressures have grown in importance, including climate change and associated flood and drought risks, invasive species and a wide-range of emerging pollutants. At the same time new perspectives on environmental management have developed, including payment for ecosystem services, nature-based solutions and circular economies.
Given these changes in pressures and policy landscapes, this eConference aims to gather scientific opinion on the strengths and weaknesses of current WFD implementation, innovation in monitoring and management and best practice in policy implementation. These opinions will be fed into the consultation process for the review of the WFD.
The eConference will have one key theme per day with four talks across morning and afternoon sessions:
A number of keynote speakers involved in water resources science and river-basin management practice will address these themes during the meeting. The eConference format will include live plenary presentations followed by a panel discussion and open online submission of questions to the speakers and panellists. Following this, conference attendees will be invited to complete an online questionnaire on options of improvements in WFD implementation.
A synthesis of the eConference will be written up as a manuscript and as a summary policy brief.
Registration
If you registered for the conference before it began, you will have received a registration email detailing how to join the eConference as well as reminders to join on the subsequent days. If you are joining for the first time once the event has started, please register here.
Download the programme
Conference Organising Committee
Laurence Carvalho (NERC CEH, UK)
Ellie Mackay (NERC CEH, UK)
Anne Lyche Solheim (NIVA, Norway)
The eConference is hosted by the Centre for Ecology & Hydrology and organised by the MARS project (Managing Aquatic ecosystems and water Resources under multiple Stress) funded under the 7th EU Framework Programme.
Follow chat about the eConference on Twitter using the hashtag #WFDeconf.
Additional information
CEH news story: How can we enhance water management in Europe?
Event Date:
Tuesday, 19 September, 2017 - 10:00
to
Thursday, 21 September, 2017 - 16:00