Auchencorth Moss
Image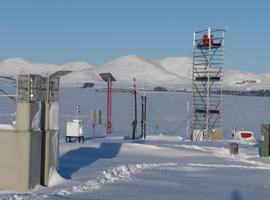 CEH Carbon Catchment contact: Dr Kerry Dinsmore
The Auchencorth Moss catchment (3.35km2) forms part of a > 10km2 low-lying ombrotrophic peatland located approximately 17km south of Edinburgh, Scotland. The vegetation consists of a patchy mix of grasses and sedges covering a primarily Sphagnum base layer on a typical peatland hummock / hollow microtopography. The site drains via the Black Burn, north-east into the North Esk, aided by several overgrown drainage ditches which form a herring-bone across the catchment.
Continuous measurements of net ecosystem exchange (NEE) and aquatic C flux have been made at Auchencorth Moss since 2003 and 2007 respectively. Older data exists for the period 1995-96 (NEE) and 1996-98 (aquatic fluxes).
Publications
Dinsmore, K J, Billett, M F, Skiba, U, Rees, R M, Drewer, J, Helfter, C. 2010. Role of the aquatic pathway in the carbon and greenhouse gas budgets of a peatland catchment. Global Change Biology.
Drewer, J, Lohila, A, Aurela, M, Laurila, T, Minkkinen, K, Penttilä, T, Dinsmore, K J, McKenzie, R, Helfter, C, Sutton, M A, Skiba, U M. 2010. Comparison of greenhouse gas fluxes and nitrogen budgets from an ombrotrophic bog in Scotland and a pristine mire in Finland. European Journal of Soil Science.
Dinsmore, K J, Skiba, U M, Billett, M F, Rees, R M, Drewer, J. 2009. Spatial and temporal variability in CH4 and N2O fluxes from a Scottish ombrotrophic peatland; implications for modelling and upscaling. Soil Biology & Biochemistry 41: 1315-1323
Conwy
Image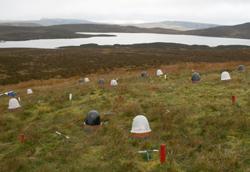 CEH Carbon Catchment contact: Prof Chris Evans
The headwaters of the river Conwy drain the northern part of the Migneint, a 200km2 Special Area of Conservation in south-eastern Snowdonia, incorporating one of the largest areas of blanket bogs in Wales. The study area, once managed as a grouse moor, now supports low-intensity sheep grazing. Carbon flux monitoring on the Conwy was initiated in 2007 and now includes continuous measurements of NEE by eddy covariance, supported by static chamber measurements at different locations representing the range of soils, vegetation and artificial drainage conditions across the peatland area.
We measure aquatic carbon fluxes through a combination of fortnightly spot-sampling, augmented by continuous recording of dissolved and particulate organic carbon fluxes using optical sensors. Supporting measurements include continuous water table measurement, soil water sampling, stream discharge measurement and an automatic weather station. We also use a lake monitoring buoy to study physical and chemical processes within Llyn Conwy, including its role as a potential hotspot for aquatic carbon processing.
Data collected so far at Conwy suggests that the peat is a large source of both DOC (around 22 g C m-2 yr-1) and CH4 emissions (around 6 to 8 g C m-2 yr-1).
Related publications
Evans C D, Freeman C, Cork L G, Thomas D N, Reynolds B, Billett M F, Garnett M H, Norris D. 2007. Evidence against recent climate-induced destabilisation of soil carbon from 14C analysis of riverine dissolved organic matter. Geophysical Research Letters 34: L07407.
Evans C D, Cooper D M, Juggins S, Jenkins A, Norris D. 2006. A linked spatial and temporal model of the chemical and biological status of a large, acid-sensitive river network. Science of the Total Environment 365: 167-185.
Freeman C, Fenner N, Ostle N J, Kang H, Dowrick D J, Reynolds B, Lock MA, Sleep D, Hughes S, Hudson J. 2004. Export of dissolved organic carbon from peatlands under elevated carbon dioxide levels. Nature, 430: 195-198.
More details about our Conwy monitoring site
Forsinard
Image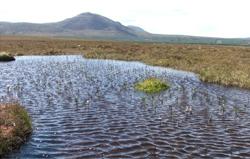 CEH Carbon Catchment contact: Dr Peter Levy
The Forsinard Carbon Catchment is in the north of Scotland in the internationally important Flow Country patterned bog system. The bog system is the UK's largest store of terrestrial carbon and its largest single tract of peatland (~4000km2). Much of the study site lies in the Forsinard RSPB reserve. The reserve contains areas of natural pool systems, areas which have been restored after clear-felling of conifers and several tracts of drain-blocked peatland. The climate of the Flow Country is cool (mean annual temperature 7.5-8.0°C) and wet (annual precipitation 650-1000mm). Recent human intervention has involved peat-cutting, agriculture, afforestation, drainage and, more recently, restoration activities. Mosses, (eg Sphagnum spp, Racomitrium lanuginosum), sedges and small shrubs dominate the peatland vegetation.
Our research at the Forsinard Carbon Catchment started in 2008. It was the last of the four sites to be set up. The study includes a remote eddy flux tower making continuous net ecosystem exchange (NEE) measurements, and a routine streamwater sampling programme for estimating DOC, DIC, POC and dissolved CO2 and CH4 export linked to continuous monitoring of stream discharge. The Environment Research Insitute at nearby Thurso supports the streamwater sampling programme.
Continuous measurements of net ecosystem exchange (NEE) on a pristine unmanaged site at the catchment have taken place since spring 2008, while aquatic carbon flux measurements started in December 2008.
The streamwater sampling sites are all sub-catchments of the river Dyke and are located about 4km from the RSPB Visitor Centre at Forsinard station in Sutherland. The three sites (each of which includes a smaller headwater stream) represent areas of contrasting peatland management:
Pristine site (location of the eddy flux tower): Cross Lochs South - a ~1km2 peatland catchment that drains west from a bog-pool system to the river Dyke.
Drain-blocked: Cross Lochs North - a restored ~3km2 catchment containing drain-blocked and deforested peatland. Drain blocking (2002-3) used a combination of peat dams and plastic inter-locking sheets. Originally drainage spacing was 40-50m.
Drained: Allt a'Bhunn: located 6km north of Cross Lochs, the Allt a'Bhunn catchment consists of a 3.6km2 area of intensively drained peatland. The site was drained in the 1960s and 1970s with parallel drains installed at a spacing of 30-40m.
Related publications
Billett, M F, Garnett, M H and Harvey, F. 2007. UK peatland streams release old carbon dioxide to the atmosphere and young dissolved organic carbon to rivers. Geophysical Research Letters 34, L23401.
Hargreaves, K J, Milne, R and Cannell, M G R. 2003. Carbon balance of afforested peatland in Scotland. Forestry 76, 299-317.
Moor House
Image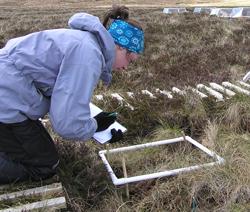 CEH Carbon Catchment contact: Simon Oakley
Moor House National Nature Reserve occupies an area of 74km2 within the north Pennines uplands in England. It is England's highest and largest terrestrial NNR. Altitude ranges from 290 to 850m.  Habitats include exposed montane summits, extensive blanket peatlands, upland grasslands, riparian wetlands and pastures, hay meadows and deciduous woodland.
The site has a long history of ecological research. It is also part of the UK's Environmental Change Network of terrestrial monitoring sites. CEH research includes studies into the effects of heather burning and sheep grazing on plant functional types, carbon sequestration and carbon budgets.
Long-term records of dissolved organic carbon (DOC) concentrations date back to 1993. As part of the ECN sampling programme, routine aquatic C concentration / flux measurements take place on three streams: Trout Beck, Rough Sike and Cottage Hill Sike, where discharge is monitored continuously. Cottage Hill Sike is the location of the eddy flux tower which links net ecosystem exchange (NEE) to chamber and aquatic C flux measurements.
Related publications
Ostle N J, Levy, P E, Evans, C D and Smith, P. 2009. UK land use and soil carbon sequestration. Land Use Policy 26, 274-273
Ostle N J, Smith P, Fisher R et al. 2009.  Integrating plant-soil interactions into global carbon cycle models. Journal of Ecology  97, 851-863
Hardie S M L, Garnett M H, Fallick A E, Ostle N J and Rowland A P. 2009. Bomb-C-14 analysis of ecosystem respiration reveals that peatland vegetation facilitates release of old carbon. Geoderma 153, 393-401
Return to CEH Carbon Catchments project overview.