The UK's new Land Cover Map is published today (Wednesday 6 July), providing a continuous coverage of habitat distributions across the countryside at a 25m resolution. The map was developed using a combination of satellite images and national scale digital mapping data.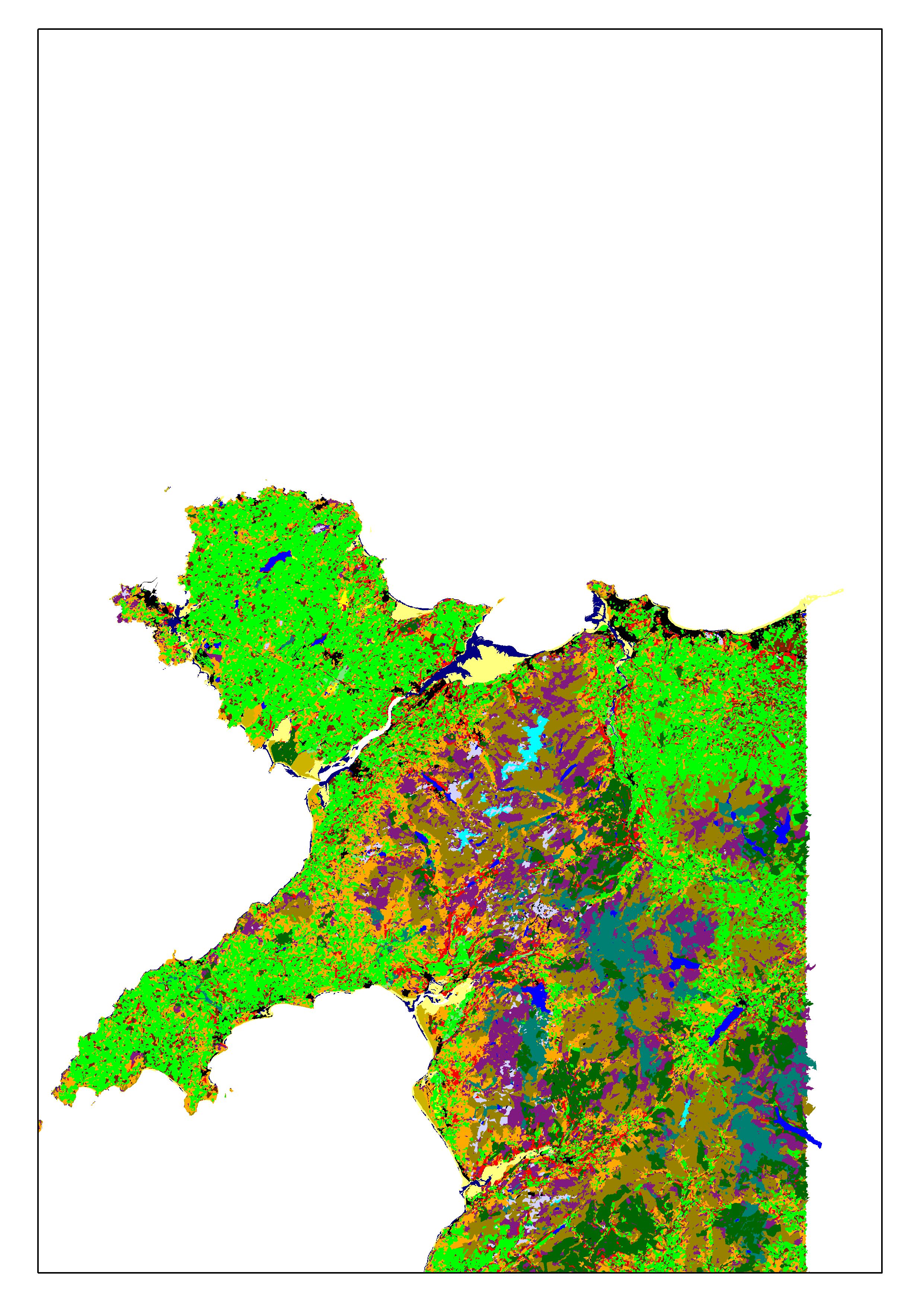 The new map is the third in a series produced by the Centre for Ecology & Hydrology on behalf of the long running Countryside Survey partnership. Previous Land Cover Maps were produced in 1990 and 2000.
Land cover was derived from more than 70 satellite images collected between 2005 and 2008. The satellite images contain spectral information which corresponds to different ground surfaces and vegetation types in both summer and winter. An automated classification process was used to assign a land cover type based on existing Biodiversity Action Plan (BAP) Broad Habitats to approximately 10 million land parcels. The UK BAP Broad Habitats are widely used in monitoring and reporting on our countryside.
Land parcels - identifying real world objects such as fields, lakes and settlements - were derived from existing national cartography products, such as the Ordnance Survey's MasterMap Topography Layer in combination with several other sources of spatial data. This use of digital cartography makes it easy to integrate the new map with other datasets, opening the door for many new potential applications, as well as improving the ability to monitor future changes in UK land cover.
"At a time when our land surface is under increasing pressure, reliable information on land cover is essential."

Dr Dan Morton, Land Cover Map Project Leader, CEH.
The new map shows the UK land cover as comprising mainly 'Arable and Horticulture' and 'Improved Grassland' habitats (25% each), with the other main land covers being 'Semi-natural Grassland' (13%) and 'Mountain, Heath and Bog' (16%). 'Urban areas', 'Coniferous Woodland' and 'Broadleaved Woodland' each make up 6% of the UK. 'Coastal' and 'Freshwater' habitats contribute to the remaining land surface area.
Dr Dan Morton from the Centre for Ecology & Hydrology led the Land Cover Map project. He said, "At a time when our land surface is under increasing pressure, reliable information on land cover is essential. The demands that we place on our land are often conflicting and need to be balanced to maintain and enhance our quality of life. To address these issues and plan for the future we need to know what we have on our land surface and where it is. The new map provides this information and will find many new applications."
[PICTURE HERE]
Land Cover Map laid over a Digital Terrain Model - Lake District
3d digital terrain overlay (Windermere) Land Cover Map is available in a range of data formats and spatial resolutions to suit different user requirements. The most detailed data is supplied as a vector product with a Minimum Mappable Unit of 0.5ha. Each polygon represents a parcel of land and has attributes describing land cover and metadata detailing how this information was derived. Five raster products simplify the information with a 25x25m product giving the most likely Broad Habitat for each polygon. In addition four freely available products summarise the 25x25m raster at the 1x1km level.
Land Cover Map data can be obtained [NEED NEW INTERNAL LINK] from the Centre for Ecology & Hydrology (CEH) under licence for academic, non-commercial and commercial use. Some products, including the 1km data, are available, free of charge for non-commercial use, via the CEH Information Gateway (CIG).
Additional information
For press queries, please contact the CEH press office [NEED NEW INTERNAL LINK]. The Centre for Ecology & Hydrology issued a press release to accompany the launch of the Land Cover Map.
Release of the new Land Cover Map products will be accompanied by a Webinar (webcast) taking place at 11am on the day following the launch, Thursday 7 July 2011. The webinar will introduce the new products and provide an opportunity for participants to pose questions to the Land Cover Map team, including speakers from the scientific team at CEH and a senior policy representative from Defra. Professor Mark Bailey, CEH Director, will introduce the webinar. Participants need to register in advance: Webinar details.
Further information on Land Cover Map, including access to the free 1km datasets, can be obtained from the CEH Information Gateway [NEED NEW INTERNAL LINK]. Digital cartography products underlying the new Land Cover Map were supplied by the Ordnance Survey (for England, Wales and Scotland), Land & Property Services (for Northern Ireland) and also included several agricultural land parcel datasets. Click here for details of Land Cover Map 2007 datasets on the CIG.
The first Land Cover Map of Great Britain, produced in 1990, was a relatively simple map. It identified and showed the distribution of habitat types as 25 x 25m square areas or 'pixels'. The second Land Cover Map, produced in 2000, used essentially the same type of satellite images as in 1990, but also incorporated information from other datasets. Northern Ireland was included for the first time in 2000, allowing the production of an all-UK Land Cover Map.
Land Cover Map 2007 (Countryside Survey website): including Final Report and dataset documentation
Related CEH links
How to access Land Cover Map products [NEED NEW INTERNAL LINK]
Land Cover Map 2007 [NEED NEW INTERNAL LINK]
Land Cover Map 2000 [NEED NEW INTERNAL LINK]
Land Cover Map 1990 [NEED NEW INTERNAL LINK]
CEH Data Holdings [NEED NEW INTERNAL LINK]
You can follow the latest developments in CEH research via Twitter and our RSS news feed.